Inflatable TEMPºSTORE™ warehouse features
The TEMPºSTORE™ warehouse is a perfect solution for your ambient storage or warehouse needs. With a rapid install time and weather-proof design, it is a simple yet effective solution. A single unit provides approximately 140m² of usable floor space. However, multiple units can be connected to form unlimited lengths. The simple yet robust structure can be fitted with multiple door openings (roller shutter/standard entrance) or left with open access ends for trucks to drive in and out of. Additionally, they can be erected with an anchoring for a variety of surfaces, provided the ground is firm and reasonably level.
High wind rating
Simple inflation and deflation system
Full consultancy service and installation
Modular design means unlimited m2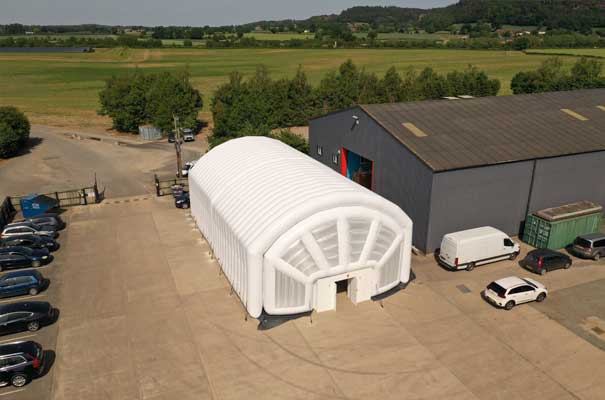 Compare the range
Floorspace
Sizes available
Interior Temperature range
Ambient operating range
Setup time
WAREHOUSE
140m² floor coverage
N/A
Ambient
+40°C
2 days
TEMP°STORE™ 10
10m² floor coverage
6 EUR-pallets
+2°c to +15°C
-2°c to +50°C
60 minutes
TEMP°STORE™ 26
26m² floor coverage
16 up to 48 EUR-pallets
+2°c to +15°C
-2°c to +32°C
4 hours
Speak to one of our TEMP°STORE™ experts today
Simply enter your details into the form and we will endeavour to get back to you within two working days.