Charity expands storage capability and reduces food wastage with flexible refrigeration solution.
A UK based food sharing project has plans to reduce wastage and extend the shelf life of donated goods with two new POLARºSTORE™ cold room units from Dawsongroup | global, thanks to an increase in donations.
The Midlands based charity acts as a food bank and discount food store to support those in need. It collects and re-distributes surplus food from local businesses, shops, supermarkets and wholesalers to minimise food waste and provide cut price options for people on very low incomes.
Close to 'use by' or past 'best before' dated food is stored by the charity at a depot in the Midlands and sold on at reduced prices or given out as food packages. A huge variety of crisps, crackers, dried goods, eggs, drinks, soups, frozen meals, pies, puddings, ice creams, cheese, cooking sauces, fish, meat, breakfast items as well as vegan and meat free choices are all available at low prices, with additional mix and match deal options.
In December 2020, just four days from ordering the extra storage, the charity took delivery of Dawsongroup Temperature Controlled Solutions inflatable product, the TEMPºSTORE™ 10 to give extra chilled storage prior to Christmas. However, with a significant increase in donations and an ever-growing requirement for storage, the charity ordered an additional two 20ft POLARºSTORE™ cold room units, delivered again within four working days from order to expand its chilled holding capacity.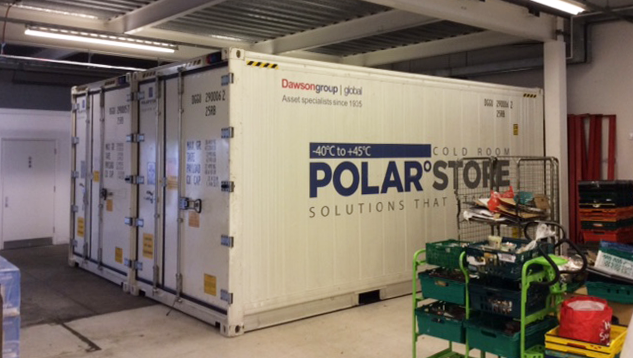 Charles Dawson, International Development Director at Dawsongroup | global, said:
"It's great to see our units being used across the groups business in Europe and now UK. With the plan to install an additional 40ft cold room by the end of January, the overall temperature-controlled storage capacity will have increased by 50 euro pallets and will significantly reduce the amount of food that spoils due to lack of storage space."
A spokesperson from the charity added:
"As our donations have increased, we have nowhere suitable to keep the quantity of food at the right temperature.
We've hired these units for an initial two year period and they are already delivering benefits. We have saved money as they are cheaper to rent per week with a much bigger capacity than the trailers we were using before. We've also been impressed how quickly Dawsongroup have been able to help us and meet our requirements."
For more details about hiring or purchasing Dawsongroup | global's temperature control solutions visit https://www.dgglobal.org/polarstore/ and get in touch to speak to one of our experts.