Deployed in under 60 minutes, the inflatable TEMPºSTORE™ range offers instant and effective cold storage solutions, anywhere in the world.
Designed specifically for the international humanitarian aid and disaster relief sector, the TEMPºSTORE™ range offers a unique, inflatable cold storage solution. It is highly compact, simple to use and is deployed in four simple steps, without the need for specialist engineering or construction skills.
Wherever required in the world, the unit is easily transported via air, road, rail or sea. Once it arrives at the desired location it can be unloaded, unpacked, inflated and connected to refrigeration. Once delivered, it can be set up and ready to use in less than one hour, rather than days. 
The TEMPºSTORE™ 10 and 26 units offer rapid solutions for any emergency cold storage requirements, expanding floor coverage by up to 78 square meters. They are suitable for any situation requiring cold storage between +2°C and +8°C and in ambient temperatures up to +50°C. They are ideal for storage of emergency food, medicine and other perishable supplies in hard to reach areas or emergency response situations requiring immediate deployment of cold storage.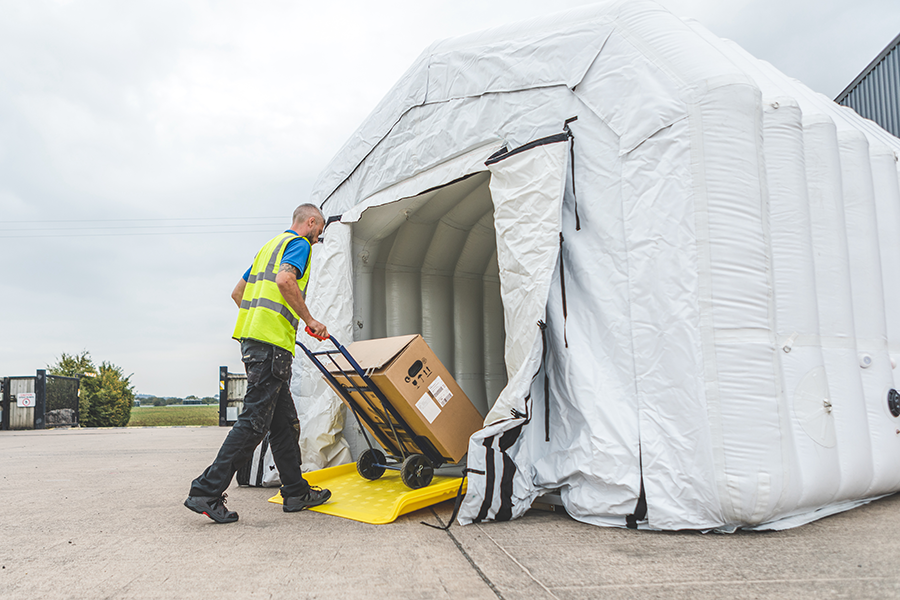 Charles Dawson, International Development Director at Dawsongroup TCS said:
We were using the inflatable products for the UK rental market and an opportunity came along to develop a specific product with one the world's largest humanitarian organisations. Our objective was to provide an instant cold storage offer for the disaster relief and aid markets.

"It had to be something that could be easily shipped or flown and then locally transported. It also needed to provide instant and easy to access storage for temperature critical products. Plus it needed to be suitable for set up without any construction skills or prior knowledge.

"The Temp°store™ 10 was our initial solution and working with international aid agencies we have gathered feedback on specific use cases to refine and develop our product range specifically for this marketplace. We can also offer global support in terms of consultancy, replacing parts and find-ing local fridge servicing partners.

"When first developed, the TEMPºSTORE™ range received immediate interest from some of the world's leading humanitarian agencies. It has already been successfully tested for one year on site with an NGO in inclement weather conditions. It is also being used in World Central Kitchens in the USA as part of its pop-up kitchen provision for disaster situations.

"The units can easily be deflated when no longer required. They can be repacked and stored during less critical times or easily moved to another location. When not in use it is compact enough to be stored in trailer. They are a versatile product and can be used to match the users response times.
The TEMPºSTORE™ units are available for hire or purchase and can be integrated with off-grid systems, enabling multiple energy streams including grid, diesel, generator and solar with a remote temperature monitoring portal.
For more details about Dawsongroup TCS cold storage solutions and services visit www.dgglobal.org.